The past month has seen the launch of our schools roadshow – offering bespoke pilot sessions to a range of school settings and events, to cater to the needs of their pupil population and curriculum.
We kicked off with an assembly about Remembrance that we used to introduce the Charity to Year 11 and 12 students in South London. As a follow up we ran an enrichment
afternoon that promoted positive mental health, well being and growth mindset, with our friends WOM ad OYE. The students were also treated to a performance of Song Cry by Jaden and Jordan, who were there to raise awareness of the single they have been working on for the Enough is Enough campaign.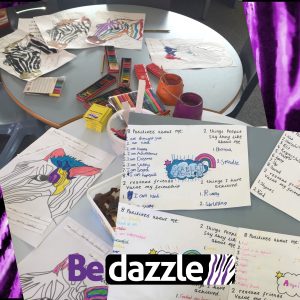 This month has also seen us visiting Primary schools to do some group work sessions on Self Esteem and Individuality, as well as delivering Drama sessions to KS3 students as part of their PSHE curriculum around the theme of Multiculturalism. We feel very lucky to have met so many great young people around the country this month and hope that we can continue to support them to Bedazzle!
We still have a limited number of pilot slots to offer to schools and are in negotiation with other settings about how they can utilise their Pupil Premium money or a commitment to fundraising for the Charity to facilitate longer term engagement following our workshops. Why not get in touch and see how we can work together?