We are proud to offer the full suite of accredited MHFA England Youth courses, running our own open courses and being able to deliver them in house in your organisation. We have seen the impact these courses have first hand on being able to support others mental health, but also on helping delegates reflect on their own wellbeing.
Two Day – Youth Mental Health First Aiders
Who's it for?
Everyone who teaches, works, lives with or cares for young people, as well as young people themselves as long as they are over the age of 16.
What will you learn?
An in depth understanding of young people's mental health and factors that affect wellbeing
Practical skills to spot the triggers and signs of mental health issues
Confidence and skills to support a young person in distress
Enhanced interpersonal skills, such as non-judgemental listening
Knowledge to help a young person recover, by guiding them to further support
Ability to support a young person with serious mental health to be able to thrive
Tools for looking after your own wellbeing
Course Structure:
Session 1: About Youth MHFA – context, policy, risk and protective factors for mental health, preventing mental health & promoting wellbeing.
Session 2: Depression & Anxiety – facts and figures, signs and symptoms, risk factors, the MHFA Action Plan for Depression & Anxiety.
Session 3: Suicide & Psychosis – about suicide, risk factors and warning signs, first aid for suicidal crisis, about psychosis, risk factors and wanting signs, types of disorders, the MHFA Action Plan for Psychosis.
Session 4: Self Harm & Eating Disorders – about self harm, risk factors & signs and symptoms, the MHFA Action Plan for Self Harm, facts and figures about eating disorders, different types of disorders, MHFA Action Plan for Eating Disorders.
Conclusion: Recovery Pathways.
We also offer:
One Day – Youth Mental Health Champions
Half Day – Youth Mental Health Aware
For specific information on the content and structure of these courses download the leaflet attached or get in touch – 0330 0103 121 or info@bedazzle.org.uk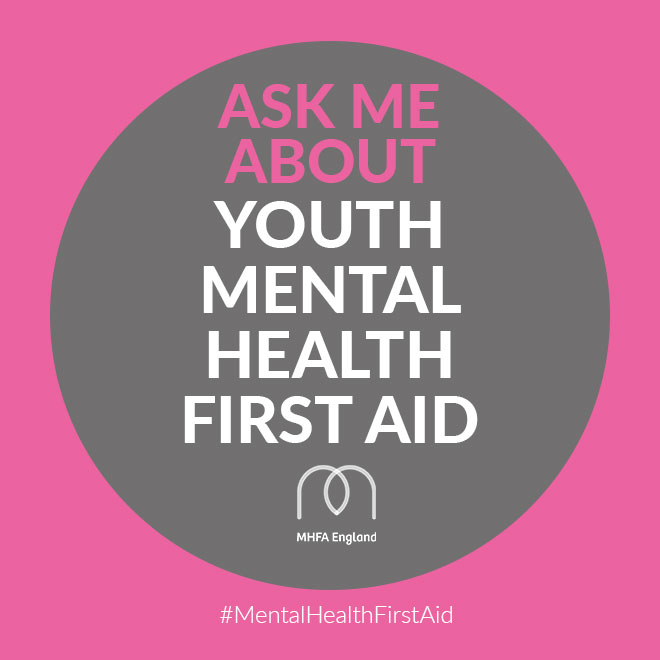 Youth MHFA Courses
Leaflet detailing all Youth MHFA England courses we offer.