Our support is always person centred, flexible and adaptable.
We offer a range of programmes that promote well-being and positive mental health, exploring the relationship with physical fitness.
We target our sessions to suit the age and maturity of your young people. These include ad hoc workshops for entire year groups, ongoing interventions and coaching programmes for smaller groups, and individual 1:1 sessions for young people.
We also work with parents, teachers and other adults who work with or care for young people.
The principles of Dialectical Behaviour Therapy
underpins all of our work.
The key skill areas are Mindfulness, Emotion Regulation, Distress Tolerance and Interpersonal Effectiveness.
Just some of our interventions…
Schools that have found our work to be most effective, have ongoing support from one of our multi skilled team, who can deliver a range of interventions to support pupils identified 'at risk' in your own tracking, or utilising our system, using Star Outcomes, to assess and measure impact.
Centred Learning for Advancement of Wellbeing
Participants will engage in a number of different sessions over a period of weeks that facilitates reflection and learning around the factors that impact our wellbeing and how that can impact on us! A small group intervention that provides the opportunity to form connections in a safe and supportive environment, with the group leader and peers over a period of time – going on the journey together.
Developing Emotional Literacy for Positive Wellbeing
Students will be introduced to a wide range of emotional vocabulary – developing their literacy skills but also their emotional intelligence to be able to articulate themselves and communicate their thoughts and feelings more succinctly. By encouraging critical thinking and open communication amongst peers and with adults, the programme works well in whole class settings.
Drawing and Talking is a safe method of working 1:1 with children and young adults to help with underlying emotional difficulties that may be affecting their learning, behaviour, self-esteem and relationships. The core of this pro-active intervention is over time, a symbolic resolution is found to old conflicts, old trauma is healed and the child is more able to sustain good social relationships and better able to access learning. It works with the child's inner world rather than with their conscious, cognitive mind.
Solution Focused Brief Therapy
Championed by Dr Tina Rae, this approach remains flexible and provides a toolbox that practitioners can dip in and out of depending on the individual circumstances each child or young person is experiencing.
It draws largely on ideas and activities found in CBT programmes and is motivational in its design, helping participants to realise and implement their best possible solution to whatever they perceive the 'problem' to be.
Some young people may require just 2-3 sessions, others may require closer to 10 or more and will work with their support worker to create a journal that maps their activities, ideas and reflections – with activities that can be repeated, adapted or amended over time.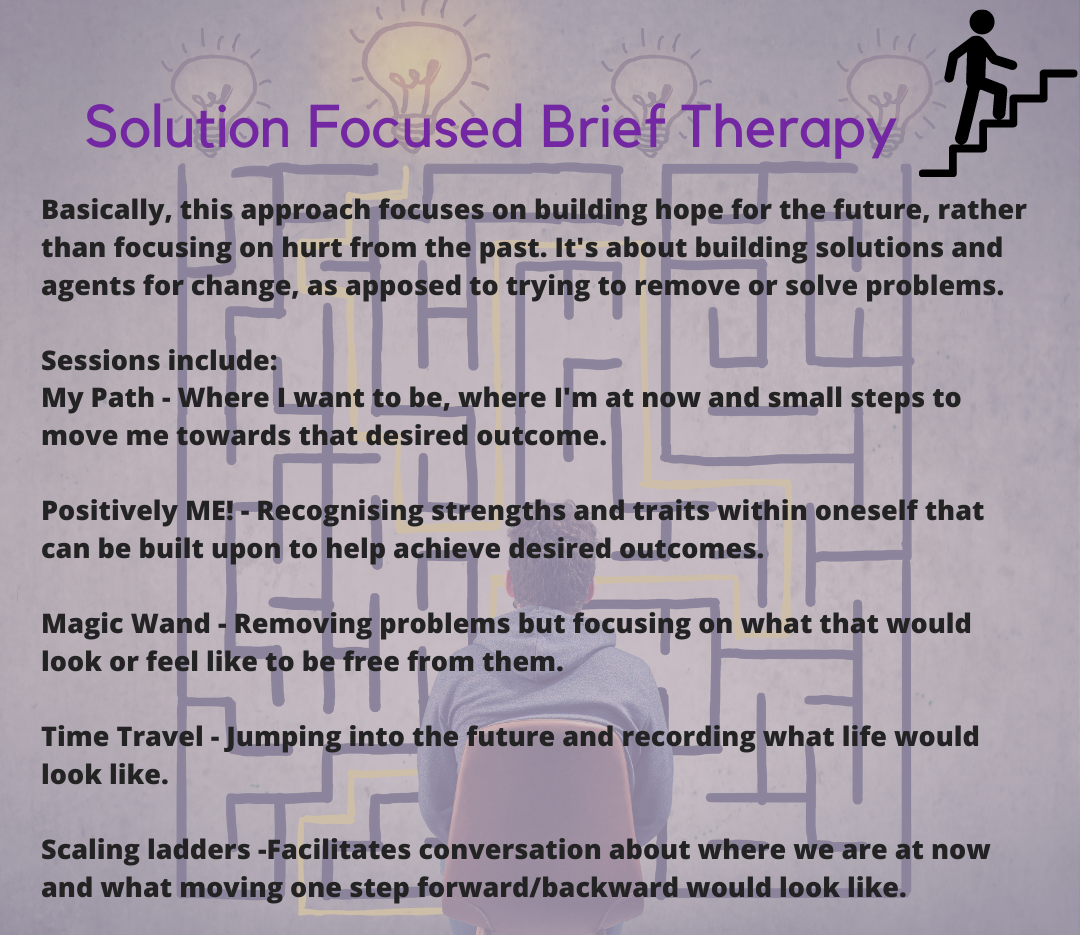 For more info on our approach and the work we do, click the link below: