We are delighted to announce that we have been selected as one of the beneficiaries for the first ever Don't Suffer In Silence Black Tie Charity Gala.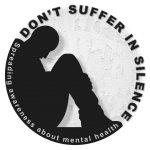 Marcus Tisson, of Shabba TV, tragically lost both his Parents within a very short time, his Mother having battled with her own Mental Health. Marcus, with his friends, decided to found Don't Suffer In Silence as a support platform to allow people to talk about their experiences of Mental Health in an open and honest way, to encourage more people to be honest and access support.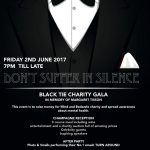 The team have been working hard and are holding a Black Tie event on 2nd June 2017. Proceeds raised from the event will be donated to Bedazzle and Mind to support them in carrying out their charitable aims.
The event is being sponsored by Moet and Chandon and held at the Canary Wharf Riverside Hotel. The event offers a champagne reception, an exquisite 3 course sit down meal, inspirational speakers, entertainment and an amazing auction. The event has already gained support from Adam Deacon and Sandra Martin on Social Media, confirming their attendance. Phats and Small have also confirmed they will be singing their smash hit number 1 anthem Turn Around.
We will soon have a dedicated event page on our website where you can purchase tickets securely online.  You will also be able to purchase the exclusive Don't Suffer In Silence jumpers or your very own Bedazzle accessories ready for the big day – all of which will raise crucial funds to support the event.