It's been a busy few months since our registration and our launch event so we thought we had better take a minute to update you all on whats been happening. Make sure you like our page on Facebook and follow us on Instagram and Twitter as the quickest and easiest way to keep up to date with what we are doing!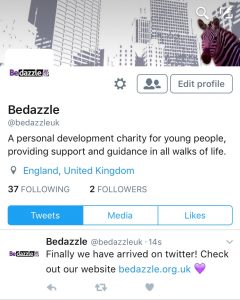 Year of Pain Launch
Firstly we must say a huge thanks to the guys who ran for Bedazzle on October 16th and all who have sponsored our Birmingham Half Marathon. We are still currently funded purely by donations and we managed to raise over £800 from this event alone. This money has helped us to carry on work on the projects you will read about below and we always use your money to benefit young people directly! Details will soon be announced for our next event in the "Year of Pain". If you would like to get involved and can help us to raise sponsorship in return get in touch, we'd love to hear from you. Events we are looking at include Wolf Run, Colour Run, a Bike ride, a mountain hike and then the Birmingham International Marathon next October!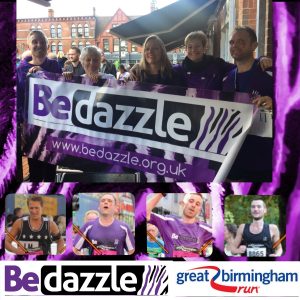 Enough is Enough
November sees the official media launch of the Enough is Enough Campaign, which we have been working with Move it Media and the Jay Lennon Fund on over the past few months. Jay sadly lost his life about years battling mental health disorders and his family are working tirelessly to ensure other people don't have to feel the pain of loosing someone they love through the lack of appropriate support and awareness.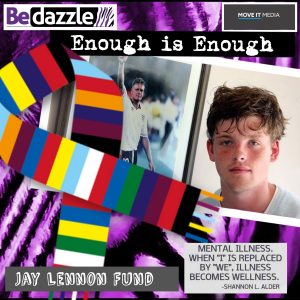 The campaign is calling for a review of current Mental Health laws and practices that is better suited to today's society. Bedazzle's role within the campaign is to encourage open and honest dialogue about mental health with young people in an attempt to address misconceptions, de-stigmatise and shift the thinking around a topic that affects us all. Quite simply, we all have a mind and need to learn how to look after it, much like we do our bodies and young minds are even more precious and influential. We will soon be releasing news of our first charity single, written by young artists working with Bedazzle to help spread the word of the campaign. Last week saw the final recording completed in the studio and we are now starting work on creating a video to accompany the single, which will be filmed in various locations across Birmingham and London. If you'd like to be involved in the making of the video there is still time to get in touch!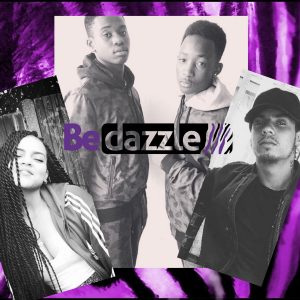 To coincide with the official launch of the campaign, November sees the launch of our schools roadshow with our first stop being the Harris Aspire Academy in Beckenham. We will be talking to young people about the campaign, helping them to understand mental health providing workshops on different topics and ways to promote positive mental wellness. If you would like to arrange a workshop, assembly or enrichment day for your school or organisation please contact our team today for more information!
We are also in the process of becoming an accredited centre for the Royal Society of Public Health, which will allow us to offer a range of accredited programmes for schools and young people, including the Youth Health Champions certificate.

Raising Funds
Whilst our team are working hard to secure funding from various trusts and grants we have lots of ideas how our supporters can help us to raise much needed funds to help us to help more young people:
You can now raise money for us just by shopping online. Shop with your favourite stores and a donation will be made to Bedazzle without costing you a penny extra. Shop at thousands of leading stores like Amazon, Expedia and John Lewis. Get started raising money for Bedazzle today sign up and please spread the word to all your friends and family who shop online as it will cost them nothing! Click the image below to sign up and tell your friends and family. Follow our social media to ensure you are kept informed of retailer special offers and competitions through the Give as you Live website, as a thank you for your support.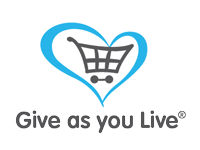 We can also help you arrange a fundraising day for us in your school or place of work, providing the materials you need to market it. How about a non uniform day or a "wear your stripes to work" day? Coffee mornings are always an easy to manage way to raise funds and promote a moment of well being – sitting and talking to each other in the staff room or office and taking 10 minutes out of the day for some mindfulness? You can even hold a "doughnuts for dough" sale thanks to Krispy Kreme and their charity programme: https://www.krispykreme.co.uk/fundraising
If you want to try something more adventurous like a fund raising concert or open mic night get in touch and we will give you all the help and support we can.
Bedazzle Base
Finally, although we cannot reveal too much information at the moment as we wouldn't want to tempt fate, we  can tell you we have been exploring a very exciting opportunity to open our first Bedazzle Base – an arts and wellbeing centre, right in the City Centre of Birmingham. Not only will this operate as the headquarters for the charity and allow us to continue our outreach work but will provide a wealth of opportunities for young people to come and engage in a range of arts and educational activities on evenings, weekends and school holidays. As well as the organised activities, one of our mentors will always be on hand to offer advice and guidance from our resource bank to young people. More information will be released very soon so watch this space! In the meantime please continue to spread the word of Bedazzle, like and share our social media updates and encourage people to give what they can to ensure we can make this happen.
We really appreciate all the love and support on our journey so far and hope you will stick with us! For now – be active, be inspired, Bedazzle!